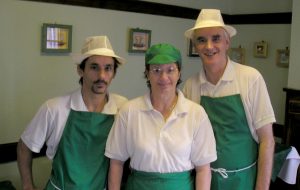 Paula and David Audley with their son Sam Homfray first started serving Fish and Chips in North Norfolk at Ketts in North Walsham in 1992. In 1996 they took over a closed shop in Suffield Park, Cromer and built up the popular Park Chippy.
In 2001, seeking a new challenge, they returned to North Walsham to open a Fish and Chip Restaurant in Hall Lane. Basing the business in three old Victorian cottages provided the unusual name. A growing demand for Take Away which was proving difficult in those premises prompted the move in 2006 to a larger premises in Bacton Road which were converted to provide an attractive Take Away and Restaurant. The success of the restaurant prompted the building of an extension in 2010.
From the outset the motto of the business, proudly displayed on our website and a large board at the door has been "We always aim to serve the the Best Fish and Chips in the World". This was never an idle boast and has always been a guiding principle of the business. Receiving 100% for our food quality from the 'Fry Best 50 Fish and Chip Shops' judges for four consecutive years is, we feel, the direct result of working to this aim.
Alongside the quality of the food , customer service and hygiene and cleanliness have never been neglected. Our high hygiene standards have regularly earned Five Star level in the NNDC Scores on the Doors and our staff enjoy a great relationship with their customers by providing a ready smile and a happy atmosphere.
Sadly Paula passed away in 2022 and David is now taking a back seat but the family business is continuing with Sam's wife Michelle now joining the management team.